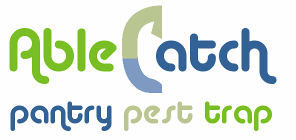 Able Catch Moth Traps - Fresh Design
Green Inside and Out
Improved Pantry Moth Trap from Traps Direct takes moth traps a new direction. Instead of the traditional Triangle design, the Able Catch Pantry Pest Traps deploy using four sided Trapezoid design with a natural stone pattern in a fern green outside that blends into today's home decor.


With out going into high school geometry, a 4 sided trap will have a larger opening than a 3 sided trap even with an identical length. Traps Direct's 4 sided " Trap-ezoid" design Doubles the trap entrance zone which results in a higher moth capture rate.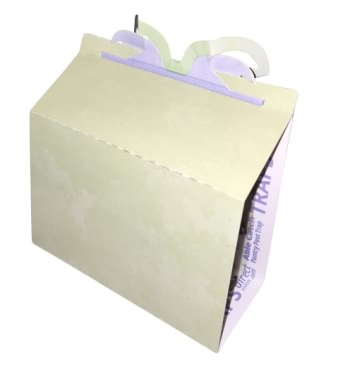 At the same time the Able Catch is designed to sit against walls, on the narrow end, with 50% smaller foot print than a catchmaster moth trap. When sitting a trap in your pantry, space is everything.
Zero Foot Print Moth Traps
Of course the only option better than a 50% reduction in shelf space, would be to take NO SHELF SPACE!
Yes, Zero Foot Print Moth Traps. Notice the top 1/4 inch of the tab, it bends backwards to become a hook, allowing the trap to be suspended from any surface up 1.25" thick. The double hook design is effective on wire pantry shelving.
Low Carbon Foot Print
Able Catch's Green pedigree includes - Non-toxic lures, water based inks, integrated directions, zero-packaging design and USA Made. The lowest environmental impact of any Moth Traps, flat shipping, USA made (no cross oceanic shipping carbon footprint).
Plodia pheromone traps - for real
Combining the refreshed structural design of the Green Able Catch trap includes a single wrap agricultural grade time release pheromone lure the able catch advances moth control for homeowners interested in avoiding pesticides in their home.
Other brands don't seem to mention that touching the lure could leave skin oil behind and may mask the effectiveness of the lure. This caution is printed on every lure packet. Education right where it is needed.
Able Catch Pantry Pest Traps - Green, Natural, non-toxic and they work!
Wing Tabs

Explore Able Catch Moth Trap's exclusive Integrated Dual Wing Tab hanging system.
Dual Wing Tab design allows Able Catch Traps to hang at moth flight level, improving performance, and saving counter space. Flexible deployment to Tuck, Hook or Loop traps into optimal locations.

Moth Trap Reviews
Able Catch Moth Traps
(

$5.55

)

Blends in and man it works!

For months I have battled with indian meal moths, these pantry pests have cost me a fortune in spoiled crackers and cookies (they really like oatmeal cookies)
I've used most of the major brand moth traps... Some from __mart and others from the hardware store with marginal success..
This year I bought the Able Catch Pantry Pest Traps. I hadn't seen them yet and liked the eco-friendly design (no package waste, no pesticides). But my main reason was the trap hooks.
The pantry in my apartment is tiny, and packed with food, but the Able Catch was able to hang from the wire shelf and didn't waste any shelf space!
Most important, I caught LOTS of moths... I feel like I am gaining the upper hand.

Andrew M from Ohio



** retail stores such as Walmart and other big box stores do NOT carry Able Catch Moth Traps